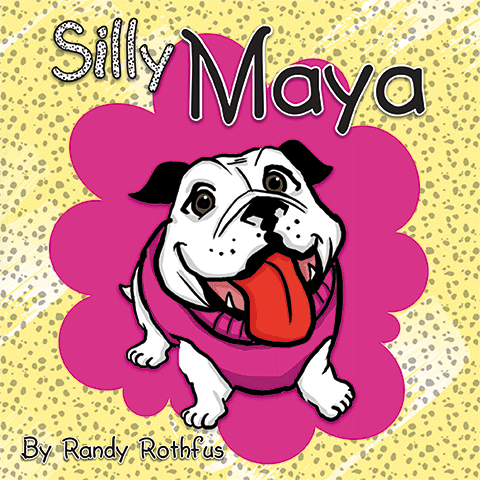 Paperback: 36 pages
Publisher: CreateSpace Independent Publishing Platform (Jan 27, 2014)
Language: English
ISBN-10: 1492821535
ISBN-13: 978-1492821533
Product Dimensions: 8.5 x 8.5 x 0.1 inches
Order Silly Maya Today!
"Miss Maya is a sweet, loving English bulldog. She looks exactly like a beautiful tiger. Well, that's what she thinks. Silly Maya."
Join in the fun with one particularly playful pup in Randy Rothfus' whimsical new children's book, Silly Maya.
Maya is a not-so-average English bulldog, whose firm belief that she's a tiger makes for some hilarious adventures!
Children are sure to laugh out loud as Maya manages to transform boring, mundane activities into delightful adventures!
With its colorful illustrations and easy-to-follow storyline, Silly Maya is sure to become an instant classic for kids and adults alike.

Customer Testimonial


A doggone good tail!
By Hannah on March 1, 2014
Amazon Verified Purchase
Silly Maya is a delightfully charming children's book which chronicles the essence of Miss Princess Maya's (English Bulldog) self perception and intent as she interacts with cantankerous Sir Elvis (Fox Terrier) throughout their daily routine.
On the back pages of Silly Maya are photographs of Miss Maya and cantankerous Sir Elvis that will tickle any dog lovers soul! I suggest taking a peek at these two characters prior to reading the story. The illustrations throughout the book are adorable and the vibrant jewel tone colors are a visual feast. Even so, nothing can surpass the expressions on the faces of Silly Maya and
Sir Elvis! There is also a photograph of the author of Silly Maya, wearing a sweater displaying an image of a Bulldog across his chest. He has a twinkle in his eye's and the mischievous grin of a proud Papa of the dynamic doggy duo. I suspect he has many stories to tell about Silly Maya and Sir Elvis and I will be watching for future narratives of them to relish with my grandchildren.
Silly Maya has a story line ideal for children from ages two through seven. It is a cozy read for Mommy, Daddy, Grandma and Grandpa. Each page of the story showcases a husky outlined illustration with a corresponding cloud, containing script, opposite it. The font is bold and generous. This little book is a nice size, comfortable to hold and has smooth pages which turn easily. All features which make it an excellent choice for a bedtime or nap time *snuggle read*. I give Silly Maya, 5 Stars, A+ and Thumbs up!